Headaches are something that everyone of us has experienced. The pain experienced from these headaches is as unique as we are as individuals. From a dull ache to a sharp, ice-pick pain—headaches are common, but not normal for daily life. In general, there are about five types of headaches.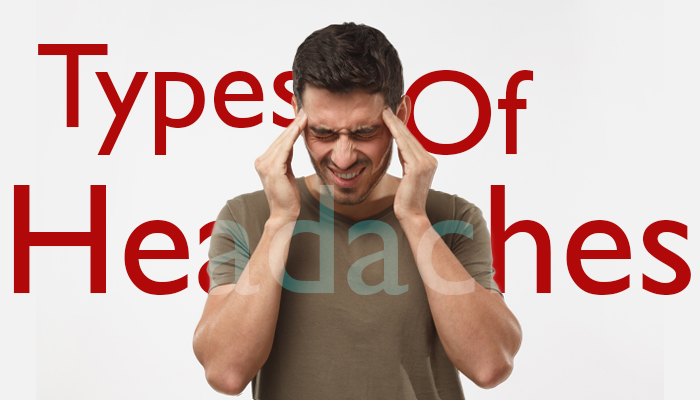 There are the main types of headaches: migraines, cluster headaches, tension headaches, and sinus headaches.
Migraine Headaches
Surprisingly, nearly 1 in 4 U.S. households have reported a member who suffers from migraine headaches. 18% of American women, 6% of men, and 10% of children experience migraines, most common between the ages of 18 and 44. Migraine headaches affect 12% of the general population in the US—and this includes children. [1]
These headaches are usually on one side of the head and and the pain level is high too severe. Often times, people who suffer from migraines have their daily activities interrupted—sometimes to the point of none at all. Symptoms can include: nausea and/or vomiting; sensitivity to light, sound, or smells; and pain that can wake an individual up in the middle of the night. This type of headache can last from several hours to several days.
Sinus Headaches
Sinus headaches are usually associated with a cold or sinus infection. These can be very painful headaches with discomfort located behind the eyes, across the cheeks or nose. Pain can also radiate across the forehead and even a person's teeth. This pain had been described as intense pressure.
Symptoms can include (or stem from an upper respiratory infection): discolored nasal mucus; nasal congestion; plugged ears; swelling of the face, and fever.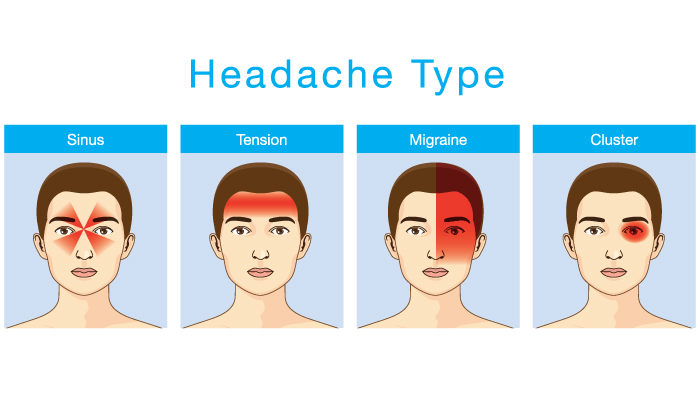 Tension Headaches
The interesting thing about tension headaches are that they don't get worse with exercise or movement or have a throbbing sensation. These headaches can have pain from mild to severe. The term 'vice-like' has been used to describe the feeling associated with tension headaches.
Cluster Headaches
Characteristically on one side of the head, cluster headaches have a severe pain level that is stabbing or piercing. Usually this type of headache will last a short duration, 10 minutes to several hours. These can strike someone multiple times a day or over the course of a few days to a week. Laying down will make the pain intensify.
Alcohol use triggers cluster headaches and other symptoms include: watering of the eye on the side of the headache and nasal congestion on the side of the headache. Sometimes the eyelid on the affected side will look like it is drooping.
How Chiropractic Care Helps Headaches
Chiropractic care is a natural treatment for headaches in general. Due to the non-invasive nature of chiropractic treatment, it's rapidly becoming one of the most popular ways to bring relief to this condition.  When the spine is realigned through adjustment, this relieves pain that is caused by tightened, fatigued muscles. Adjustments also correct areas along the neck or spine that may be affecting nerves. There are many other treatments that chiropractors offer, such as acupuncture to relieve the pain of any type of headache. For more information, call Dr Han today!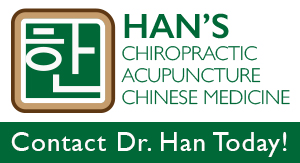 References:
https://www.emedicinehealth.com/5_types_of_headaches/article_em.htm
[1] https://migraineresearchfoundation.org/about-migraine/migraine-facts/